Healthcare Cubicle Tracks
A cubicle track is a track that is suspended from the ceiling onto which cubicle/privacy curtains are attached to create areas of private enclosure for one or more patients within a healthcare environment.
Affordable Blinds offer a large selection of tracks ranging from telescopic, mobile as well as hoist friendly tracks. With these options available we can ensure every privacy requirement can be met.
Our cubicle track system can be fitted with the Magnetic Suspension System for Anti-Ligatureuse. This is highly beneficial in mental health areas where patients may be at risk of self-harm.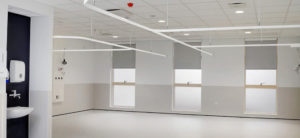 About Movatrack from Affordable Blinds
Movatrack cubicle track systems are in use in many hospitals throughout the world. Movatrack is firmly established as a leading brand of cubicle track due to its unique blend of properties – innovative design, practical effectiveness and rugged reliability.
Even after years of intensive use, curtains on Movatrack roller hooks do not jam, and the tracks never need lubricating – only normal cleaning procedures are necessary. The rigid, high-grade aluminium profile will span 3m with ease, and the wall fittings are manufactured from die-cast aluminium.
Designed from the outset with infection control in mind, the roller hooks run in an enclosed channel and the flat, channel-free top surface provides no dirt trap and allows for safe and simple cleaning.
All Movatrack products are available nationwide, with experienced installation and service teams providing an unrivalled level of support.
Movatrack Specification
Made from high grade aluminium
Compatible with Universal curtains
Available in white powder-coated finish
Option to order with roller wheel curtain hooks
Select from straight, L-Shape or U-Shape layouts. Other layouts are available to order on request
Benefits:
Low maintenance, durable roller track system
No lubrication required
Every curtain track is fitted with a curtain removal point
Silver anodised finish available to order on request

Call today 059-9182894 Based in south Carlow