School Blinds From Affordable Blinds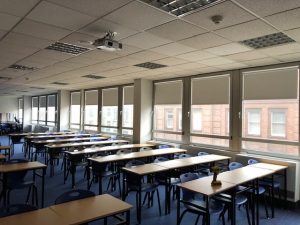 Choosing the right blinds for a school is important to control the temperature in the classroom and limit glare on computer screens.
With so many options available, you may feel as though you need some guidance on which is best for you – that's where the experts at Blackout Blinds and Screen blinds.
Children need the right environment when learning to enable them to reach their full potential.
They can get irritable when they get hot or tired which can make them unproductive and disruptive to others.
The 3 most effective style of blinds for a school are motorised. Blackout and screen blinds.
Motorised blinds from Affordable Blinds are simple, easy to use and very convenient for the teachers to operate in a busy classroom. With the added benefit of being cordless, electric blinds make for a safe option. Depending on the room, you might like to consider our Roller blind, Blackout blinds or Screen blinds all have a vast choice of high-quality fabrics and colours to choose from.
To prevent the sun shining in and reflecting on whiteboards or computers blackout blinds will give complete control of light flooding into the classroom. We can fit these to most of our commercial blinds.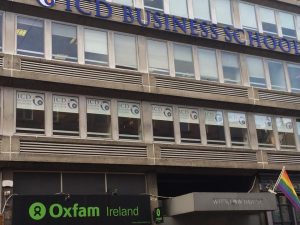 We also supply and install logo blind to all schools, colleges,and business of all sorts.
                                                                Blinds with safety in mind
You can choose from roller blinds, vertical blinds, venetian blinds, and roller blinds, knowing that whichever option you pick, it's designed to last and withstand the demands of the school environment.
The fabrics used block up to 97% of UV rays whilst still allowing natural light into the room – so your class won't be distracted or have difficulty seeing anything – all of which means you're able to create a comfortable learning environment for both staff and pupils.
All blinds come complete with a 2 year parts and labour on-site guarantee and are designed and installed in accordance with European Safety standards with regards to child safety. And, when the guarantee period has ended, you can still arrange services and repairs to be carried out by us if required.
                 We provide Window Blinds for Colleges and Schools in Carlow and around the country.


                                          Please call our offices now for a free consultation. 
                                                                       Ph: 01 4416366 or call us on 086 0499552